Connect your wallet
When using Centrifuge you can choose between deployed pools on Centrifuge Chain and pools on Ethereum. You can connect to both chains via our wallet component that allows you to pick the wallet of your choice. To do so, click on Connect in the top right corner. Then, first select the chain you want to connect with (currently Ethereum and Centrifuge)
In the second step select the wallet of your choice. On Centrifuge the system currently supports Talisman, Subwallet and Polkadot.js.
On Ethereum, the system supports Metamask, Coinbase Wallet and multiple other wallets through Wallet Connect.
Set up Ethereum wallet (Metamask)
What is MetaMask?
MetaMask is a browser extension that allows you to use Ethereum protocols or dApps (decentralized Apps) such as Tinlake. The extension holds your private keys and serves as a wallet for ETH and ERC20 tokens, such as DAI, senior token of pool, or junior token of pool. Connect MetaMask to the app and confirm your transactions to transfer and receive tokens.
How to install MetaMask in your browser
Choose the browser you want to use.
You will be directed to corresponding web store.
Follow the steps there to add the extension to your browser.
After setting up your wallet, Metamask should pop-up as a fox icon in your browser bar.
Connect MetaMask with Centrifuge
Click on the Connect button in the top right corner.
Choose the MetaMask wallet in the wallet dialog.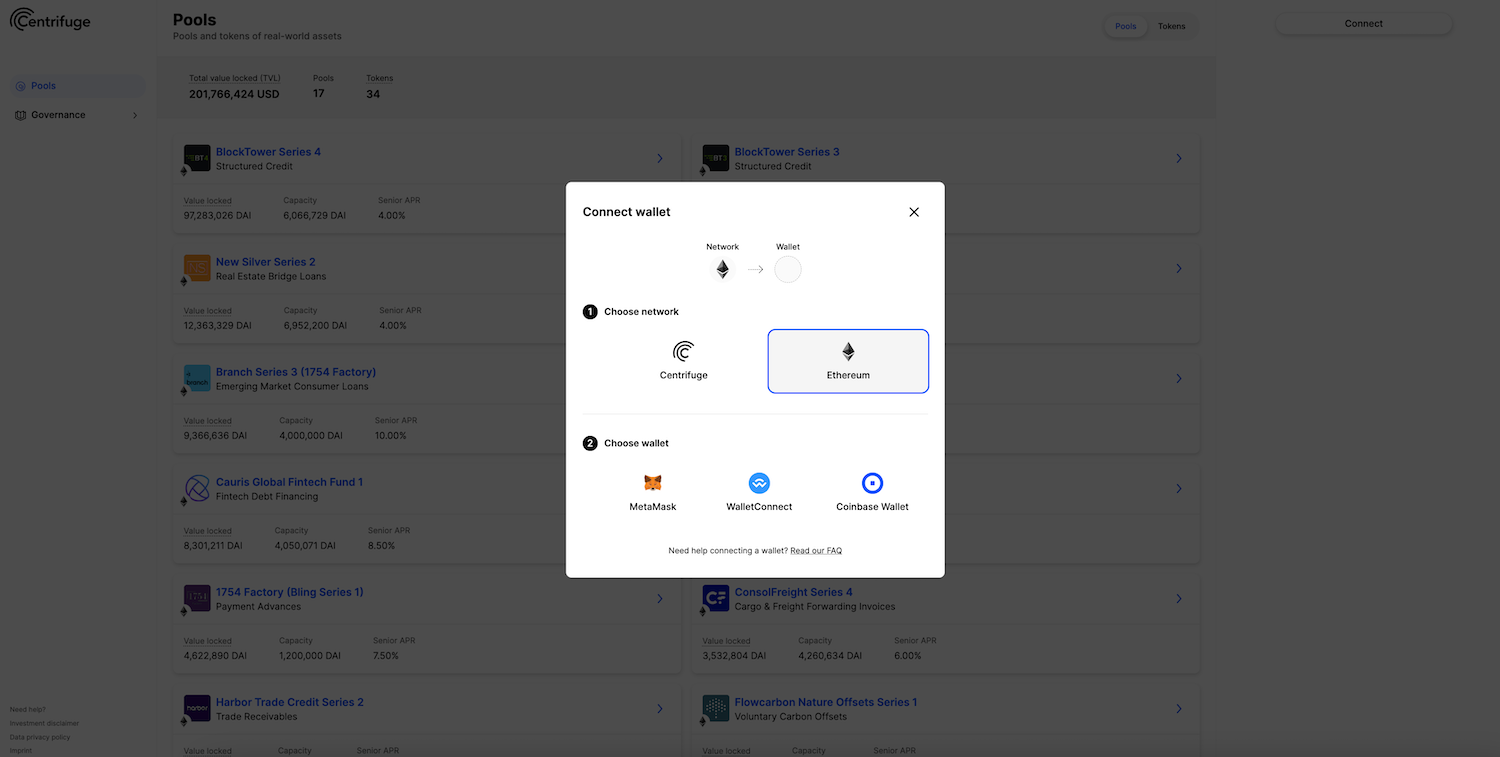 Set up a hardware wallet for Ethereum (Ledger)
What is a hardware wallet?
A hardware wallet stores the user's private keys in a secure hardware device. To use an address stored in a hardware wallet a user needs to be in physical possession of the device. A popular hardware wallet is Ledger.
Setting up a Ledger device
Download the Ledger Live and follow the steps in the app described here.
Install Ethereum app on Ledger device
Set up first Ledger Ethereum (ETH) account. See more here. 1. Open the "Manager" in Ledger Live. 2. Connect and unlock your device. 3. If asked, allow the manager on your device. 4. Find Ethereum in the app catalog. 5. Click the Install button of the app. - An installation window appears - Your device will display Processing... - The app installation is confirmed
Configure Ethereum app
Open the app Settings.
Change Contract Data to Yes.
[OPTIONAL] For older versions of Ledger, make sure Browser Support is set to Yes. Newer Ledger Versions are supporting it by default.
Connect hardware wallet in MetaMask
Open MetaMask by clicking on the fox icon.
Make sure to select the correct network (Main Ethereum Network or Kovan Test Network) at the top.
Click on the circle in the top right corner.
Click on Connect Hardware Wallet.
A new modal opens. Select Ledger and click Connect.
Select the address you would like to use. Ledger already offers several autogenerated addresses to choose from.
Confirm transactions with your hardware wallet (Ledger)
When your MetaMask account is connected to the hardware wallet you need to confirm each transaction with Ledger.
Note that Ledger hardware wallets currently do not support Centrifuge Chain (CFG)
Set up polkadot.js account
Overview
You can create a CFG account in any wallet that supports Polkadot. For detailed information on how to set up Polkadot accounts using the different tools that Web3 Foundation/Parity developed and supports, please also see this article. Possible options are:
Polkadot-JS UI
Polkadot browser extension
Parity Signer, recently updated to Polkadot Vault
Using Polkadot-JS UI
Of all options, this is the least secure and is not recommended.
Open Polkadot.js[https://polkadot.js.org/apps/#/explorer]

Click the dropdown at the top left and select Centrifuge (listed under "Polkadot & Parachains")

Create a new account for your user by navigating to "Accounts" and clicking "Add account".

Fill in the form, e. g. for Peter Parker:

Click "Save" and then "Create and backup account". Make sure you save the downloaded JSON file in a safe place.

Done! You can now copy your address and send it to others to receive tokens. The address is the string starting with 4... (for Centrifuge Mainnet). You can copy it by clicking on the icon to the left of your account name:
Using the Polkadot.js extension
Download the extension here
Create a new account by clicking on "+" in the top right of the extension and selecting "Create new account"
Save your recovery phrase in a safe place before you continue (THIS IS VERY IMPORTANT)
Set a name and password for this account
Once created, backup the account by selecting the 3 dots to the right of the account name and clicking "Export Account"
Make sure you save the downloaded JSON file in a safe place, and remember the password for this account
Done! You can now copy your address and send it to others to receive tokens.
Using the Parity Signer App
This is an unofficial guide on how to use the Parity Signer App to create an account on Centrifuge Chain. Please consult the official Parity Signer documentation here.
Buy an old or new device (ex. iPod touch, Android phone, etc.)

Important: only charge it with a battery bank or wall charger, don't plug it into a computer!!! Use a charge only cable, not a data cable.

Set up a passcode and set it to wipe the device upon entering the code incorrectly too many times.

Install the Parity Signer App from below links:

Never connect the the device to a computer, even to upgrade it.

Turn off WiFi & Bluetooth (NEVER TURN IT ON AGAIN!)

Create a key for Centrifuge Mainnet using the Parity Signer App

Create your identity to get started

Write down your 24 word Recovery Phrase (THIS IS VERY IMPORTANT)

Set your Identity PIN

You will use this PIN to sign all of your transactions using this device.

Create your first Keypair - select the Centrifuge Mainnet Network

Get your address by scanning the QR code on the Polkadot.js website.

On your computer, navigate to https://polkadot.js.org/apps/#/explorer
Make sure the network is set to Centrifuge.
Click on Accounts
Click on 'Add via QR'
Scan the QR code on your device for your Centrifuge Mainnet Public Address
Your address for Centrifuge Mainnet should begin with a '4...'

To manually check the above process:

Delete the key from the app
Recover the key from your backed up phrase
Verify the address matches what you obtained above
1) Send some test CFG to another address and use Parity Signer to sign this transaction - You will first need to send some CFG to this account - Initiate a transfer on the Polkadot.js website by selecting 'Transfer' in the left menu or on 'Send' from the Accounts page - Click 'Make Transfer' - Click 'Sign via QR' - Using the Parity Signer App, scan the QR code in your browser with the App's QR Scanner from this account screen (see above on how to get it). - In the app, confirm your signature of the transaction by entering your PIN - Click 'Scan Signature QR' in the browser - Sign the transaction
1) Backup your Recovery Phrase and keep it somewhere safe. Please do research on secure methods for storage and recovery.
A note on app updates: If a new version of the app becomes available, please exercise the following caution. Ideally, replace the device or do not update the app. If an update is necessary:

Hard reset the device and wipe everything
Re-install the new parity signer app
Turn off wifi & bluetooth and NEVER TURN IT ON AGAIN
Recover your key from seed phrase
Remember to write down your secret phrase & STORE IT SAFELY! Follow a secure protocol to save and store your private keys. Please do some research and choose a secure method that will work best for you.
Third Party Custodians
The following custodians offer custody of CFG or wCFG (ERC20 on Ethereum).
Bitcoin Suisse Vault (native CFG)
Coinbase Custody (ERC20 only
BitGo (ERC20 only)
DISCLAIMER: Use of this guide is at your own risk. To the maximum extent permitted by applicable law, the services are provided without warranties of any kind, whether express, implied, statutory or otherwise, including, but not limited to, implied warranties of merchantability, fitness for a particular purpose, title, quiet enjoyment, accuracy, or non-infringement. Further, to the fullest extent allowed by applicable law, in no event shall the company or its affiliates, be liable to you or any third party for any damages of any kind.